Copper Smoker
Model:

4059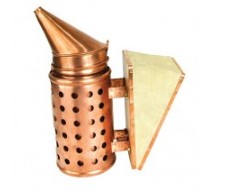 Copper Smoker with a strainer at the top and lower parts. Made of high quality copper and comes with a lifetime warranty from manufacturer. Full height 30 cm (12" inch) & tank height 18 cm (7" inch).
High Quality Smoker with Heat Protective Tank
Made of high grade Copper
Essential for Beekeeping
Calm bees within the beehive
 One of the most important pieces of equipment you will need besides a veil.  Smoking the hive entrance and frames lightly, encourages bees to gorge honey keeping them busy while you inspect the hive and also masks the alarm pheromone bees release when disturbed.